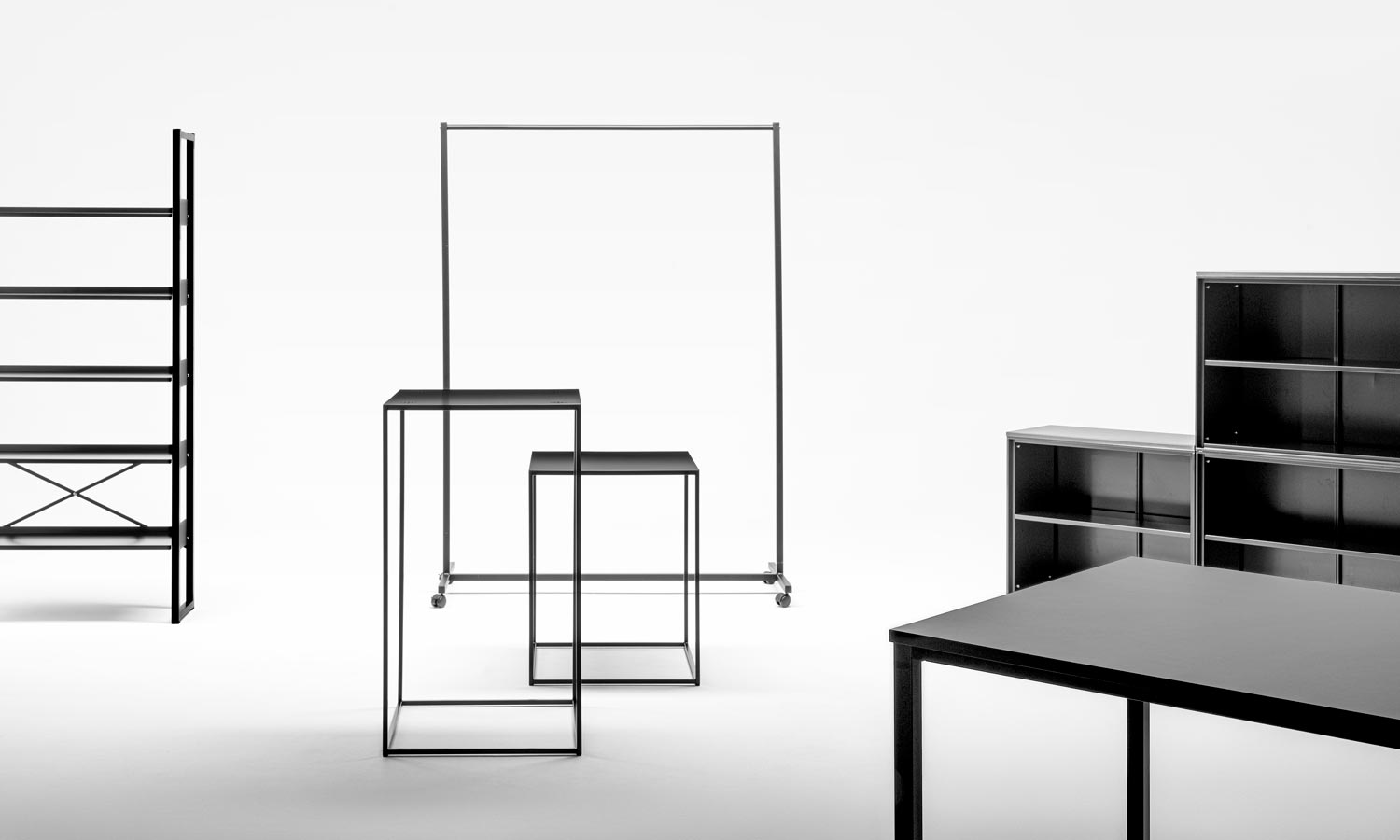 Contract furniture for retail and HoReCa
Our range of technical metal furniture dedicated to contract furniture solutions, is designed with neutral or customized colour finishes, solid and recyclable raw materials, components that can be easily dis-assembled and re-assembled, replaceable or repairable over time.
Emme Italia, thanks to many years of experience as heavy-duty and high-end contract furniture supplier, can realize standard or bespoke solutions for storage and display. Also, we can provide an iconic collection of tables, stools and chairs, for restaurants and coffee corners.
Our metal furniture products dedicated to interior, retail, exhibit and HoReCa, are made in Italy since 1995.
Furniture for fashion brands, shops and retail
Contract furniture solutions for fashion and design shops, tailor-made hangers for fashion brands showrooms and wardrobe spaces, display systems for clothing and accessories.
Emme Italia has collaborated with the most important fashion brands in Italy and all over the world to create metal structures, storage and display furniture systems for concept-stores, temporary-stores, exhibitions and events. We created furniture objects and systems to support the daily work of creative offices, technical offices and prototyping laboratories of a wide number of fashion and design companies.
In particular, fashion brands need flexible workspace solutions that can integrate functional and creative activities, an hybrid ecosystem of furnishings that combines the needs of traditional office with the features of a showroom. Thanks to the functional industrial design of our pieces of furniture, our objects can take place in many different spaces and can be easily custom-made to enhances the peculiar values of a brand and to create a distinctive shopping experience.
Furniture for art-shops and bookshops
Tables, bookcases, shelves and steel display structures for art-shops, bookshops, pop-up and temporary-shops, are furnishing objects that complete Emme Italia's proposal for interiors such as museums, art galleries, places dedicated to culture and knowledge. Our contract furniture objects are the best choice for creating display and storage spaces with a distinctive industrial design.
HoReCa contract furniture
Solid structures, iconic industrial design: our contract seating and tables are made of steel, the best choice to furnish interiors with vintage flavour and industrial style. Metal objects to create bar and bistro furniture sets: stackable chairs and stools, modular dining and coffee tables.
Our tables, chairs and stools can be custom-made with laser-graphics steel surfaces on request. Chairs and stools are also available with seats and backrests in beech-tree, tables also available with melamine or laminated top.
Thanks to the collaboration of specialized partner companies, Emme Italia can design and realize steel structures for lounge and hospitality furniture projects. Contract outdoor seating and tables are available on request.
Would you like more information on our contract furniture solutions?
We are by your side to help you select the perfect furnishings for your interior design project. Contact us to request a free consultation.