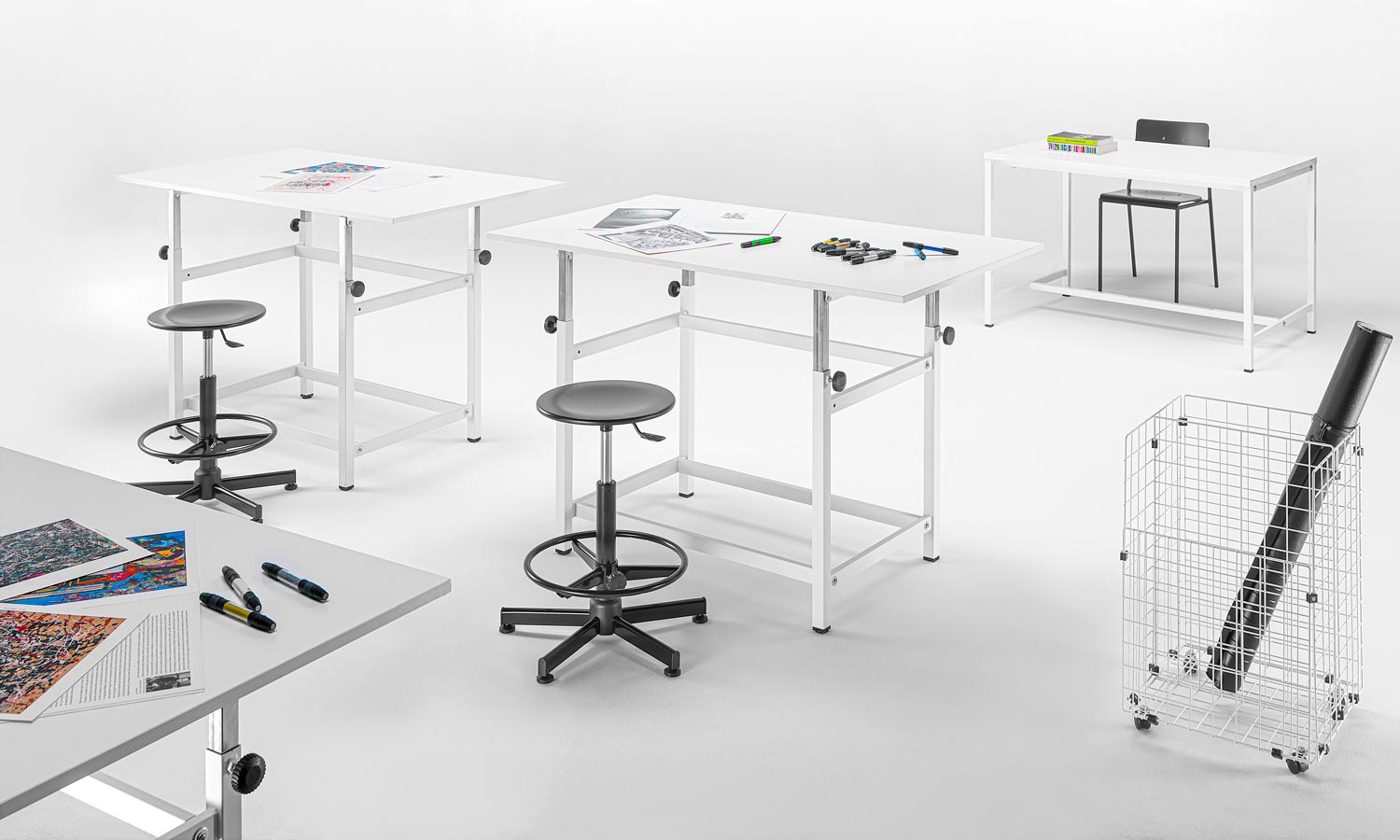 Furniture for school and education.
Our range of technical metal furniture dedicated to schools, take place inside a wide typology of educational spaces, such as academies, universities and research campuses, in Italy and all over the world.
Our furniture range is designed for multi-purpose activities and for specific activities, for traditional teaching spaces and for creative laboratories. Combined with our storage solutions, allows to create a complete system of solid and durable products, with neutral colour finishes, made with a large use of recyclable raw materials and modular components that can be easily replaced or repaired over time.
School chairs and stools, school desks and school tables, bookcases and cabinets: a wide choice of furniture dedicated to all places where culture and knowledge can be shared. Our metal furniture products are made in Italy since 1995.
Frontal teaching furniture
We produce metal school furniture dedicated to traditional classroom layouts for frontal lessons. Our products are characterized by functional solutions that simplify the daily use of the furniture inside teaching spaces, from primary school to university.
Stackable tables and chairs matches the need of flexibility and durability. In particular, stackable tables are easy to be disassembled, to be stored with a great saving of space when not in use. Thanks to the quality of our construction components, it is possible to dis-assemble and re-assemble the tables several times while maintaining the specific technical characteristics of the product.
In particular, the QS1/ST stackable school tables by Emme Italia are made with steel structure and are available with a standard 60 x 78 cm worktop or with made to measure dimension, also with double desk solution for two-seater. Can be supplied in different heights referring to the different dimensional classes of the school furniture, can be stacked up to 5 pieces and allow a flexible use of the didactic spaces.
Our range of stackable chairs is made with structures in chromed steel and seats in plastic polymer, with self-extinguishing characteristics of reaction to fire. Available with plastic parts in standard black or white colours. Different colours on request. Easily stackable, our chairs allow to set up multifunctional spaces, classrooms and conference rooms. Can be supplied in different heights referring to the different dimensional classes of the school furniture, perfectly matching the stackable school tables dimension.
Multi-functional school furniture
Our metal school furniture dedicated to creative workshops is featured by great stability and great load capacity, an ideal choice for technical, craft and manual activities, to support the weight of technological equipment and instruments, such as 3D printers and other innovative supports.
The furniture range dedicated to multifunctional spaces is characterized by modular solutions to create easily re-configurable workshops. A traditional teaching area can be quickly transformed for innovative activities and laboratories such as information technology, scientific research, robotics. The use of heavy-duty industrial wheels also allows to create nomadic workstations, trolleys and tailor-made solutions on castors for a wide kind of learning needs.
Ergonomic school furniture
We produce height adjustable tables to be used as stand-up desks or as traditional desks combined with adjustable chairs, to adapt to a wide range of students and levels of education: primary and elementary schools, secondary and high schools, universities.
In combination with our ergonomic tables and desks, we recommend the use of laboratory chairs and drafting stools with height adjustable seat and adjustable backrest, which allow a correct ergonomic posture. Adjustable chairs and stools with wooden seats are durable, solid and easy to clean.
Digital classroom furniture
We realize metal structures dedicated to STEM and digital teaching solutions. Metal structures can be equipped with VESA-compatible attachments and can be equipped with heavy duty industrial wheels. The workstations can be fixed, on wheels, adjustable with simple or balanced mechanical systems, or with electrified adjustable solutions.
Drafting furniture
Metal drafting furniture made by Emme Italia and dedicated to drawing, illustration and graphics, are the daily professional tool for students, architects and designers all over the world, since 1995.
Fixed-height desks and adjustable tables are best-sellers items to furnish creative and art spaces. Easily re-configurable and adaptable to different activities during the day, our wide range of adjustable drafting tables are also available with a Grapholux backlight box, or drafting machine. On request, it's available a foldable version of traditional drafting table. Traditional drawing tables and Grapholux back-light drawing board workstations can be combined with our wide range of adjustable drafting chairs and stools.
With large-format metal drawers and shelves you can storage and display student's drawings and artworks. In particular, our metal furniture is designed to storage and display drawing formats from DIN A2 to DIN A0.
Collective school spaces furniture
Thanks to the collaboration with specialized partner companies, we are able to supply seats, tables and furnishing accessories for collective school spaces, such as, for example, lecture halls and meeting rooms, conference rooms and auditoriums. We can also provide a wide range of furniture for collective spaces, such as stackable solutions, nomadic solutions on castors, folding tables.
Library and archive storage furniture
Our metal furniture dedicated to libraries and archiving in general, are featured with steel structures that guarantee high performance in terms of durability and solidity. Bookcases, cupboards for documents, cabinets to storage drawings and paper in rolls, large-format drawers to file drawings and blueprints, large-format shelving for art and craft materials.
Thanks to our experience in storage and display furniture for museums, we can also create customized solutions in particular for fashion, design, art and architecture laboratories and archives. Our metal furnishings have been chosen to set up archives and libraries of prestigious international universities all over the world.
Drafting equipment
We can provide a wide range of drafting equipment for artist drawings and technical drawings, such as foldable drafting boards in format DIN A2 and A1, portable drawing boards in format DIN A2, parallel motion rulers, T rulers, and more over, as well as print finishing equipment for graphic-labs, wire roll files, baskets and trolleys for storing drawings and blueprints on rolls, and manual rotary trimmers.
Would you like more information on our furnishing solutions for schools?
We are by your side to help you select the perfect furnishings for your interior design project. Contact us to request a free consultation.